Background On Austin Dewitt Boyd

Austin Dewitt Boyd was born on April 19, 1889 and was raised on the family farm just North of Prospect, Ohio, at the juncture of Rt. 4, Rt. 203, and Newmans-Cardington Road. The farm was on the banks of the Scioto river.

Austin Dewitt, "Dusty" was the forth child and youngest child in the family. His older brother Cary being 16 years older than him, always referred to him as "the kid". Most everybody else knew him as "Dusty". I don't know why and my father says he doesn't know why, but that a lot of people didn't even know his name. They just knew him as Dusty. His father's name was Austin Augusta Boyd, and so while he had the same first name as his father, he wasn't a Junior. They wouldn't have wanted to call him Austin, so perhaps the natural result was Dusty. He was called that from a young age as he had written it in one of his primary school books.


The Austin A. Boyd Family ca: 1900. A.D. "Dusty" on the far right.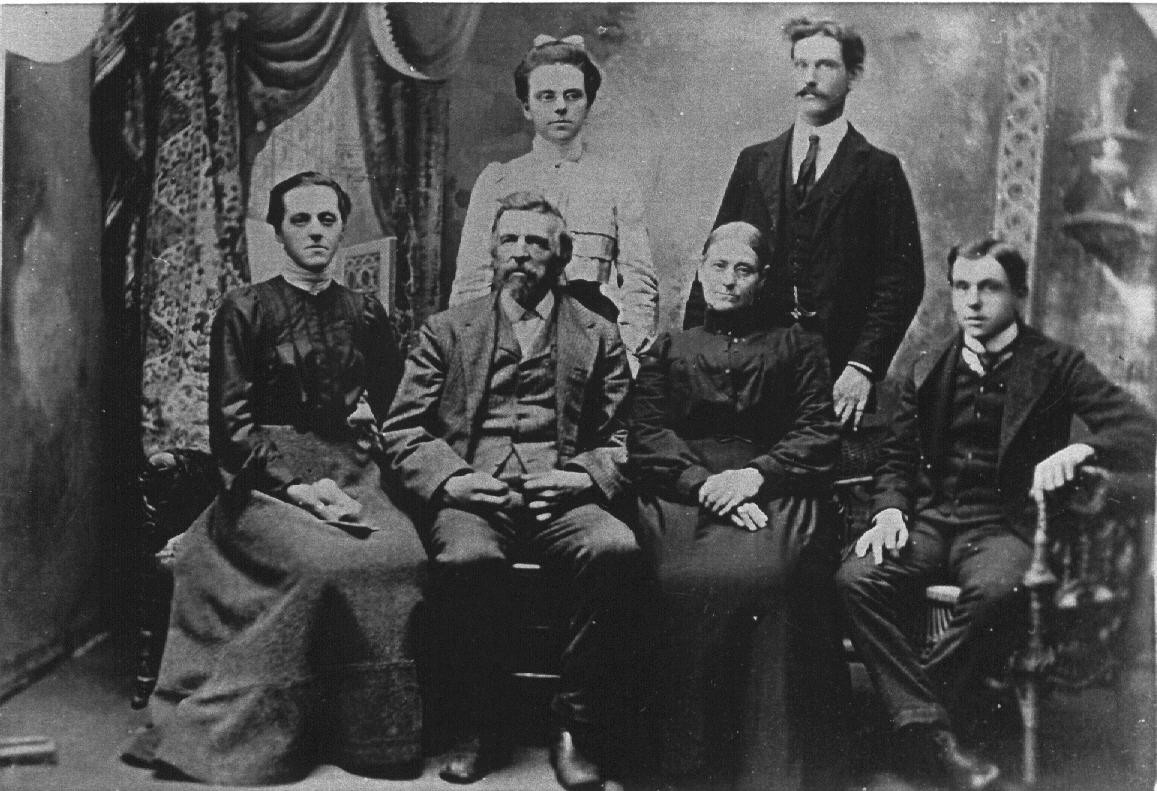 I have found no record of what grade of school he may have finished, although, taking into consideration that his Uncle Joseph was a school teacher, and he had two older sisters who no doubt used him as the pupil in make-believe school, he was probably fairly well educated for his day. I have found some of his old school books, included in which are "The School History of The United States", and "Applied Physiology - Advanced". He studied at Prospect School.


A 1915 Huber Steam Tractor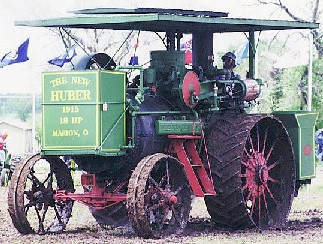 He probably worked on the farm until he was of age to work at The Huber Co. in Marion. At about the same time the family farm house burned down, and his parents moved to a house in Marion.

His job at Huber was that of bucking rivets inside the boilers. This was attributed to be the cause of his hearing impairment in later years, but his service in France might well have contributed if not caused his hearing damage.

In June of 1917, at the age of 27, he was a member of the Ohio National Guard which was called up to serve in the the war and which became newly formed 166th infantry of the 42 division of the American Expeditionary Forces in France. Its not clear if he was already serving in the National Guard, or if he joined specifically because of the United State's involvement in the war. Cetainly, at his age, he might well have been serving in the Guard for some time.

He always told Dad that he was a "mule skinner". Dad assumed this to be a common term for the members of a military supply company. He in fact, served in company D, which was an infantry company, although he did spend the latter part of his time in Europe working a team of mules. This came primarily after the fighting had ended. It is possible that his reference to being a mule skinner was much like saying he was a B.S.er. At any rate, it certainly appears that he was a foot solder plain and simple. He mentioned in one of his letters that he had one of only 16 automatic rifles in the company, so you can bet he wasn't driving mules with that! His statement that he was a "mule skinner" may have been his way of avoiding further discussion of the war. Certainly, people would be less likely to be interested in the service of a mule skinner than that of a dough boy who spent months in the trenches shooting at "the Boech". To be sure, he was at home behind a team of mules, having grown up on a farm where mules were likely the primary motive force.

He returned to Marion, and after receiving a score of 97 1/2 on the fireman's exam, he was appointed to the position of fireman on the Marion Fire Department as of January 1, 1920. This proved to be the start of a long and successful career. Of course the job was not without its frustrations just as any job is, and Dad says that when someone would ask him if he was going to be a fireman when he grew up, Grandpa would say, "Tell them 'no' or they'll think you're retarded." He eventually became captain of the West Station, which was near the Marion Power Shovel on Center and David Streets. He had 2 or 3 men under him at the station, and they worked shifts of 24 hours on and 24 hours off. His "Kelley day" (extra day off every other week) was Thursday.

Uncle Bob told me that Grandpa was in line for the position of chief, but that politics came into play and he never attained it. Uncle Bob also described how Grandpa drilled and drilled to memorize the location of all of the fire alarm boxes in Marion. Bob would give him a fire box number and Grandpa would have to recite the street location.

Three years after returning from the war, he was married to Ruth Elizabeth Weber of Marion. The next year, 1923, when he was 34, was a rather tragic one for him. His first child, Mary Elizabeth, was born, and then died only nine days later. His father also died that same year.

When he was age 39, his last child, John, was born. Three years later, his mother died.

In approximately 1943 or 1944, he had a heart attack and left the fire department on disability. By the time his disability ran out, he was old enough to retire. His son John was working at a bakery and his son Robert was about to or had graduated from high school and entered the army. Letters Dusty wrote to Bob while Bob was in the service can be found here. When he was 57, John graduated from Marion Harding High and entered the Army.

During his retirement, he tried his hand at real estate, but never really did much with it. He spent part of his time hunting groundhogs over by the old folks home and at Ralph & Lucille's farm near Caledonia. After dad joined the army and married mom, he took mom hunting squirrels and phesants.



This is the A.D. Boyd I remember, painting his home at 306 Spencer Street in Marion, about 1960.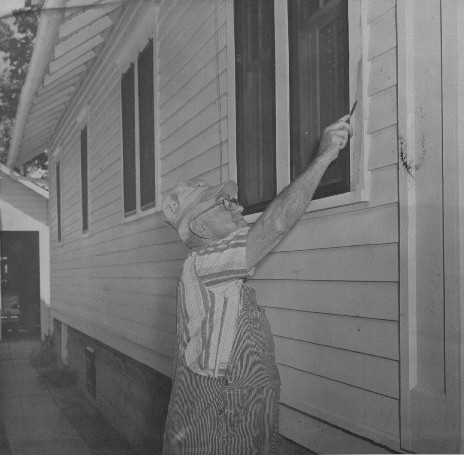 He was an avid gardener in the years after he retired, maybe before also because he grew up on a farm. He had a huge garden beside the house on Spencer Street. My dad would roto-till it for him in the spring and my mom would help pick strawberries in the summer. He always had good fresh vegetables, and to this day, the only white radishes I've ever eaten were ones he had grown.

My last memory of grandpa is of July 9, 1965. My dad and sisters and I were visiting with grandpa and grandma. Grandpa went to the utility room to get his radio for dad to replace the batteries. When he came back to into the kitchen, he fell to floor having a heart attack. My dad gave him CPR, but it was no use. Grandpa was gone.